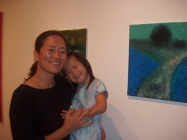 Jeong Julia Lee was born in South Korea. She lived in Inchon which is a big port city near Seoul since the of age 5. She grew up between the ocean and mountains and had a very happy childhood there. Also the art and literature were always important to her.
Jeong started to learn traditional Korean paintings in her youth. At the same time, she enjoyed studying art history, philosophy, poetry and the natural sciences. Later on she enjoyed watercolor, drawing, and oil painting. All these experiences enriched her appreciation of art and helped to develop her art skills from her youth.
In 1990, Jeong entered Ewha Womans University, in Seoul. She has a B.F.A. and a M.F.A. in Fine Arts from Ewha. During that time she had many group shows in Seoul and Inchon and her first solo exhibition in Inchon, 1998. She moved to California in 2000 and is now currently living and working in New York City. She is a participating working artist at the NY Studio Gallery.